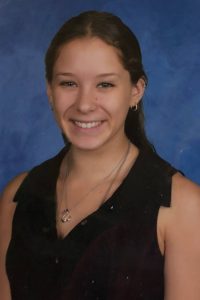 Miss Monica is the Head Teacher in our Pre-School classroom. She is a graduate of M.S.C., but also received her high school diploma from Clayton Valley Charter High, as well as completing her Early Childhood Education and Administration units at Diablo Valley College, where she is planning on furthering her education. In June, 2017 Miss Monica completed her Montessori training and internship and is now a fully-certified AMS Montessori Preschool teacher.
Miss Monica lives in Clayton with her family, including her beagle Daisy and her cats Reeces and Mowgli. At age two she started gymnastics and, in high school, became a competitive gymnast, then cheerleader. When she's not here at school, you might find her with her family, at a sporting event or tumbling in the gym!
Though she's young, she finds a lot of joy working with the little ones.